SITE, ORIGINAL BUILDING & DEVELOPMENT…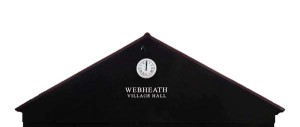 Webheath Village Hall was built in 1925 to provide a Parish Hall for the Village on land donated to the village by Mr Victor Woodfield. It consisted of the Main Hall with a stage at the far end. To the front of the building there was an entrance with a corridor. To the right was the kitchen and to the left were the toilets, separate for ladies and gents. To the rear, outside, beyond the stage and at a lower level than the hall, was a bowling green.
During WWII an air raid shelter was built adjacent to the building on the left hand side.
During the 1950's the hall was home to the village primary school (the predecessor to Webheath First School until its opening with the same head teacher). For this purpose the rooms on the right hand side were built as the boys and girls toilets and a storeroom. These now serve as our storerooms. There was a small school garden  where the shed now stands.
With the need for extra space the Annex was built in the 1980's (now referred to as the back hall), with it's own single toilet and sink unit. Access however was via a door to the left of the stage, through the main hall.
In the early 1990's the new main kitchen and toilets were added to the left hand side of the building providing a more spacious entrance serving both halls. Those at the front were then demolished.
The back hall toilet and sink were later removed and the space became the small kitchen with modern units, for users of the back hall to prepare refreshments.
The gable end of the hall bears our name below a clock. The clock was provided to commemorate the Golden Jubilee of Her Majesty Queen Elizabeth II in 2002.
This is how the building remains today.